Billy Grammer CDs for Sale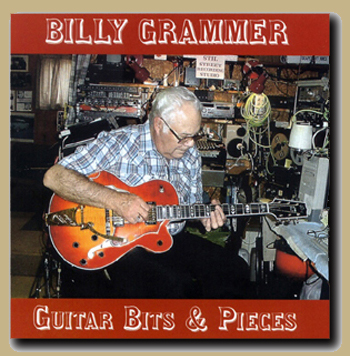 Guitar Bits and Pieces
Circle Records - 12 Tracks
Released in 2000
1. Waltz Across Texas
2. Seamans Blues
3. San Antonio Rose
4. Bumming Around

6. Turn Your Radio On

8. Crying Steel Guitar Waltz
9. Am I Blue
10. Jericho Road
11. Keep On The Firing Line
12. Twilight Time
$12.00 S&H Included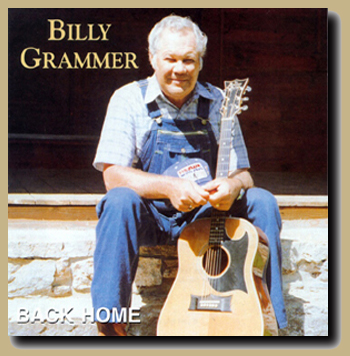 Back Home
Circle Records - 11 Tracks
Released in 1985
1. Maple On The Hill
2. I Wonder How The Old Folks Are

3. Renfro Valley
4. Letter Edged In Black
5. Papa And Mama
6. The Old Spinnning Wheel
7. When The Works All Done This Fall
8. To See My Grandma

10. Somebody Loves You
11. I'm Lettin' You Go
$12.00 S&H Included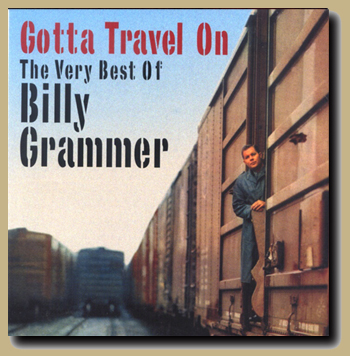 Gotta Travel On
The Very Best Of Billy Grammmer
Sony Music Collectibles - 21 Tracks
Released in 1975, 1976, 1998

2. Midnight
3. Poor Old Heartsick Me
4. One Thousand Concrete Blocks
5. Barrel House Bessie
6. Sweet Kitty Wells
7. A Thousand Miles Ago
8. Run Boy
9. My Lucky Love
10. Give Myself A Party
11. You Know I Do
12. How's The World Treating You
13. Mom & Dad's Waltz
14. Steppin' Out
15. That's Life
16. Who's Gonna Buy You Ribbons

18. Family Man
19. What We've Got In Common Is Love
20. The Kissin' Tree
21. The Whipporwill Song
$12.00 S&H Included
Also Available: Christmas and Country Instrumental
All of these are available on CD or Cassette
Send Check or Money Order to:
Billy Grammer Music
7360 Grammer Road
Sesser, Illinois 62884
Billy's Latest Offering On The Bob Will's Tribute Album
Billy has recorded an original song for the Bob Wills 100th birthday tribute album. The album was recorded on the Common Ground label and contains 23 tracks - one of which is titled Turkey Texas Blues. Not only is it a great song recorded in the Texas Swing style that Billy is so fond of and plays so well, but Turkey Texas is also considered to be Bob Will's home town. Billy was asked to sing on the LP, but did one better with this great original tune. The album was produced by Tommy Alsup and includes a large roster of big name talent.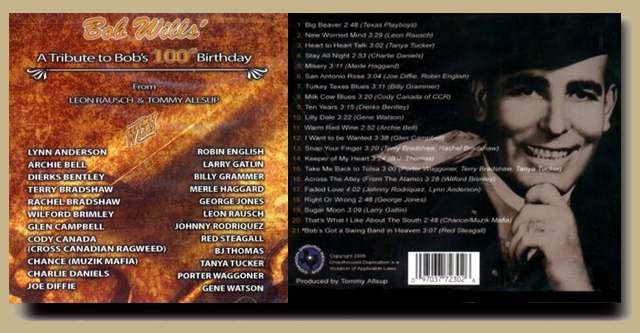 Turkey Texas Blues


Billy Grammer's Discography: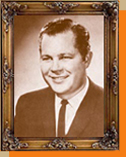 Billy Grammer sang on a number of hits under his own name, but he also played anonymously on the hits of others, serving for years as a busy session guitarist in Nashville.

In 1949, Billy got a chance to record, signing with Plaza Records, but his efforts failed to find an audience. Meanwhile, Grammer was getting experience as a backing musician, working with Grandpa Jones, T. Texas Tyler, and Hawkshaw Hawkins. In 1955, he joined the musical cast of Jimmy Dean's TV show that originated in Washington, DC. Working with Dean more than three years, Grammer stayed with the easygoing entertainer when he moved his show to CBS-TV.
In 1958, Billy got his big break courtesy of Fred Foster, owner of Monument Records. It was initially based in Baltimore, Maryland, where Foster was a promotion man at J&F Wholesale Record Distributors. He quickly moved his operation to Nashville, where it would become one of Music City's most successful independent Labels in the 60's, with a roster that included Roy Orbison, Tony Joe White, Dolly Parton, Boots Randolph and Kris Kristofferson.
However, in 1958, Monument was just another small label without a hit and Foster needed one to launch his company. He thought there might be possibilities for a 19th Century British folk ballad known as "Done Laid Around," that had been re-arranged by folk singer Paul Clayton as "Gotta Travel On." Foster asked his friend Grammer if he would be interested in doing a version of the catchy song.
Billy recorded his single - the first for Monument - in Nashville, working with Chet Atkins, Floyd Cramer, The Anita Kerr Singers, and other Music City studio pros. Foster cut a deal with London Records to distribute the label and Monument 400 was issued in the fall of 1958, breaking out of the Baltimore area. It quickly moved onto the Billboard chart, peaking at No. 4 and lasting for 20 weeks. Despite strong country elements, it took the record longer to catch the fancy of country radio programmers. In early January 1959, it did chart and went Top 5.
For a follow-up to "Gotta Travel On," Foster chose the infectious "Bonaparte's Retreat," a Top 10 country record in 1950 for Pee Wee King, who wrote it with Redd Stewart. A pop cover version for Kay Starr was also a huge hit that year. Foster cut the new version in Nashville, again using top-of-the-line pros like Atkins and Cramer. Issued as Monument 403, it failed to make the country charts, but was a Top 50 hit in the spring of 1959.
The "Bonparte" flip side, "The Kissing Tree," also did well on the pop charts. Foster also issued an album, "Travelin' On" (Monument 4000), the source of "Gotta Travel On - The Very Best of Billy Grammer," a collection of Grammer's early work.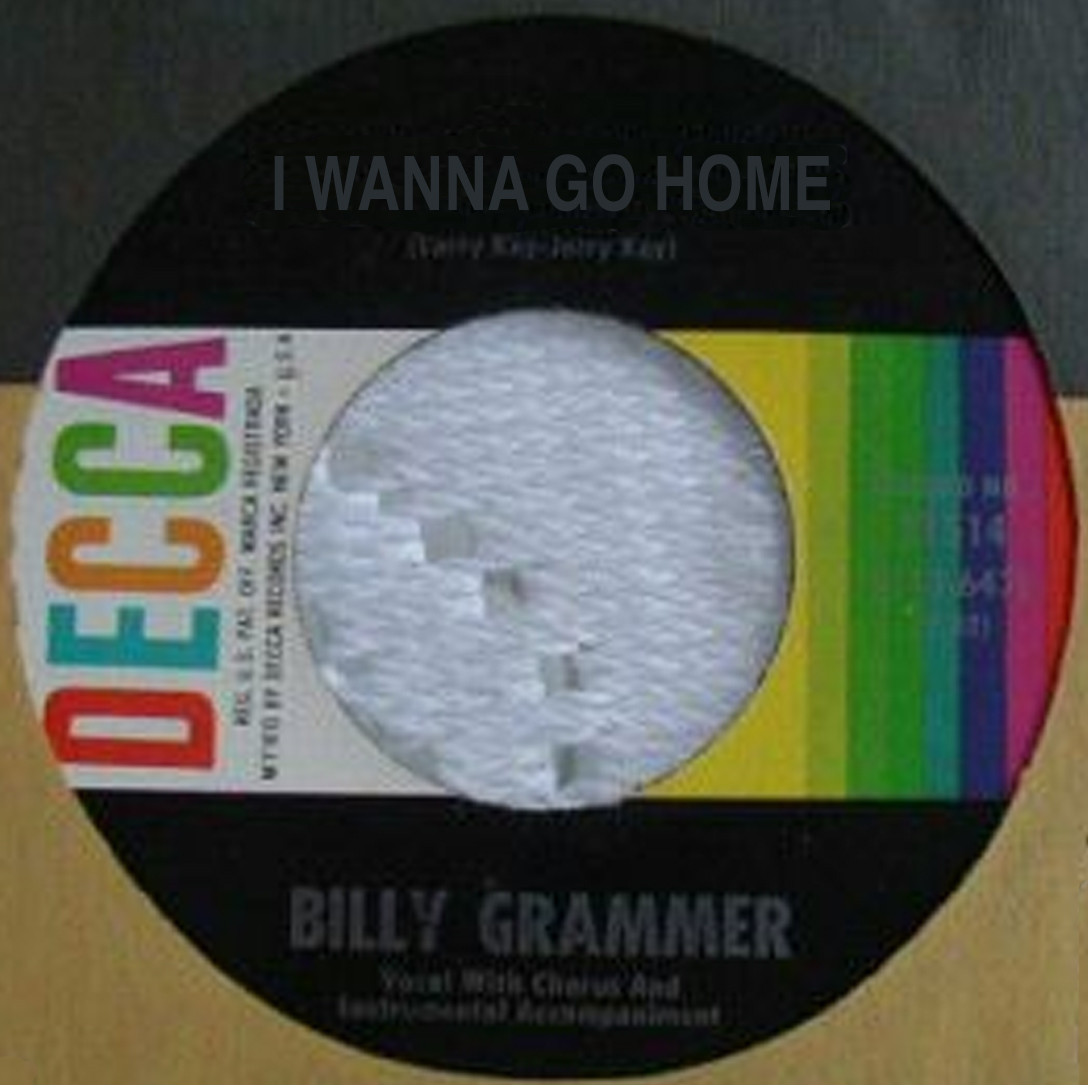 While Foster concentrated on other Monument artists, Billy found work in the Nashville studios. In 1962, he was back on the country charts, going to No. 20 with "I Wanna Go Home" (Decca 31449). In 1963, Bobby Bare re-did the song, calling it "Detroit City," and scored a huge pop and country hit.
Billy, meanwhile, had another successful record early in 1964 with "I'll Leave The Porch Light A-Burning" (Decca 31562). Decca also capitalized on his instrumental prowess, releasing two albums - "Country Guitar" and "Gospel Guitar."
Billy left Decca soon after his two chart songs, but he stayed busy as a studio musician. In 1966, he had another record deal that resulted in a Top 40 single - "Bottles" (Epic 10052). It was followed by the Top 30 "The Real Thing" (Epic 10103). There was also an Epic album called "Sunday Guitar."

In 1967, Billy had a Top 50 disc on the Independent label Rice Records with "Mabel (You Have Been A Friend To Me)" (Rice 5025). He continued to move on label-wise, getting a Top 70 hit in 1968 with "The Ballad Of John Dillinger" (Mercury 72836). In 1969, he had a hit for another label with a country cover of "Jesus Was A Soul Man" (Stop 321), a Top 30 pop success for Lawrence Reynolds.
He did an album called "Billy Grammer Plays," in 1975 for the Stoneway label and a 1977 Christmas album, "Christmas Guitars Featuring The Guitar Chimes Of Billy Grammer," on the Classic Christmas label.
Mark Marymount - Taken from liner notes of Gotta Travel On - The Very Best Of Billy Grammer
ALBUMS and EPs
Date: 1959 - Re-released in 1966
Album Title: Travelin' On
Label: MONUMENT
Catalog: SM-14000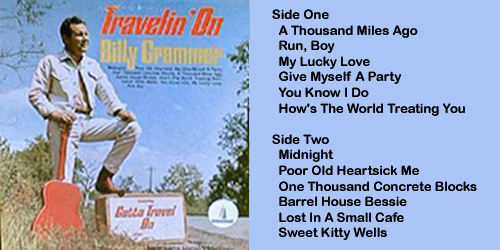 Date: 1960
Album Title: Billy Grammer Hits
Label: Monument
Catalog: MEP-15001
Comments: Released as an EP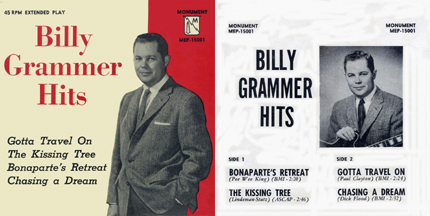 Date: 1961
Album Title: Grammer's Guitar
Label: Monument
Catalog: MEP-15002
Comments: Released as an EP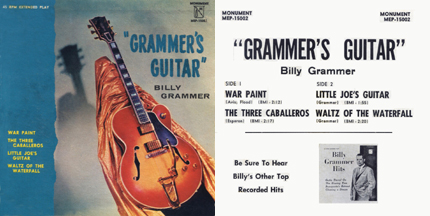 Date: 1962
Album Title: Gospel Guitar
Label: DECCA
Catalog: DL7-4212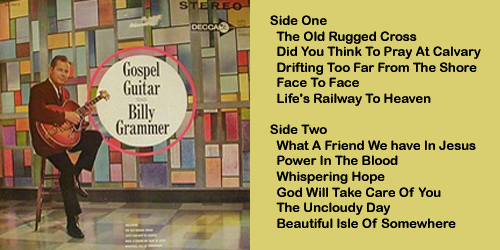 Date: 1964
Album Title: Billy Grammer Detroit City
Label: DECCA
Catalog: ED-2767
Comments: Released as an EP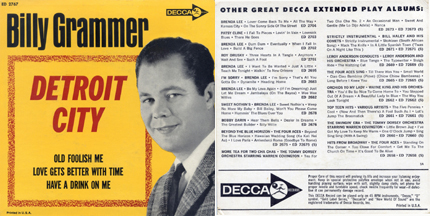 Date: 1964
Album Title: Golden Gospel Favorites
Label: DECCA
Catalog: DL7-4460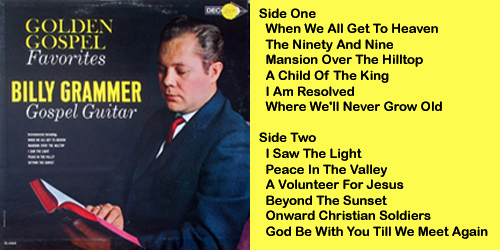 Date: 1964
Album Title: Billy Grammer Sings Gotta Travel On
Label: DECCA
Catalog: DL7-4542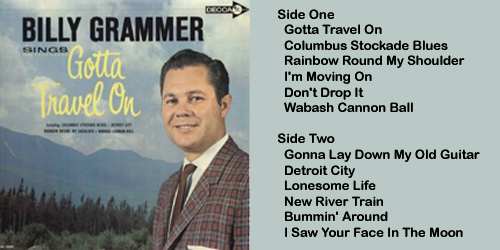 Date: 1965
Album Title: Country Guitar
Label: DECCA
Catalog: DL7-4642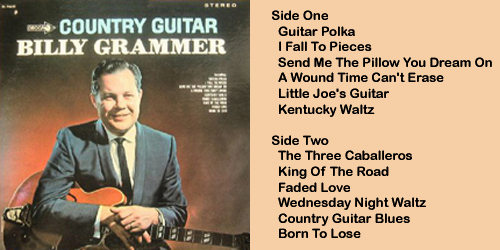 Date: 1966
Album Title: Travelin' On
Label: MONUMENT
Catalog: SM-18039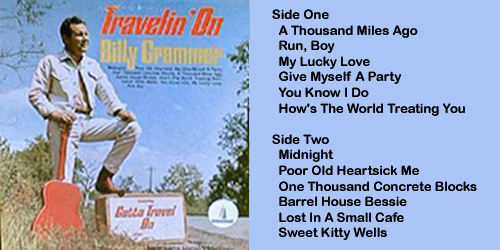 Date: 1967
Album Title: Sunday Guitar
Label: EPIC
Catalog: BN-26233
Date: 1968
Album Title: Country Favorites
Label: VOCALION
Catalog: VL7-3826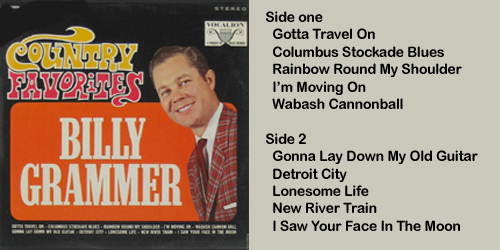 Date: 1969
Album Title: Power In The Blood
Label: Skylite Records
Catalog: 6107
Date: 1975
Album Title: Billy Grammer Plays
Label: Stoneway
Catalog: STY-152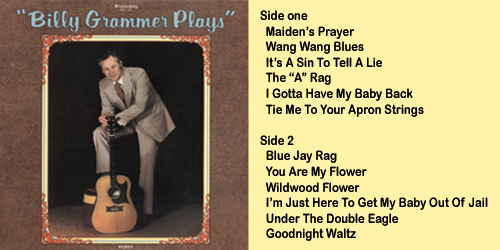 Date: 1977
Album Title: Christmas Guitars Featuring Guitar Chimes Of Billy Grammer
Label: Classic Christmas
Catalog: CCR-1931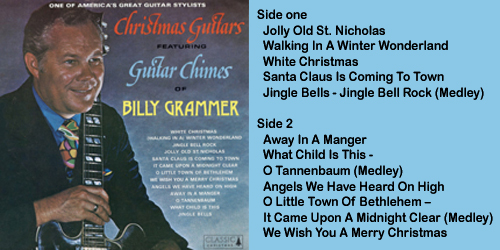 Date 1985
Album Title: Back Home
Label: Circle Records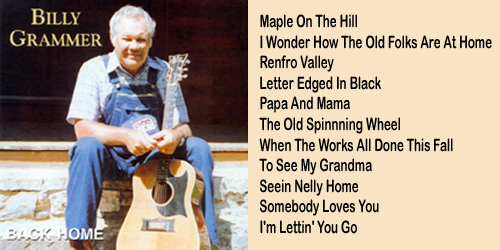 Date: 1998
Album Title: Gotta Travel On: The Very Best of Billy Grammer
Label: Collectibles
Catalog: 5896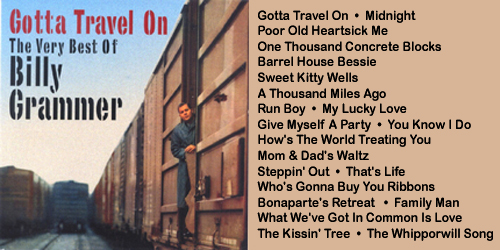 Date 2000
Album Title: Guitar Bits & Pieces
Label: Circle Records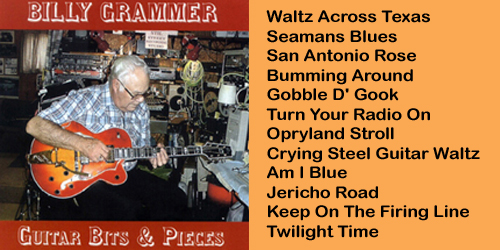 SINGLES:
Date: 1958
Single Title: "Gotta Travel On"/"Chasing A Dream"
Label: MONUMENT
Catalog: 400
Date: 1958
Single Title: "Bonaparte's Retreat"/"The Kissing Tree"
Label: MONUMENT
Catalog: 501
Date: 1958
Single Title: "Gotta Travel On"/"Bonaparte's Retreat"
Label: MONUMENTGOLD
Catalog: 1905
Date: 1959
Single Title: "Bonaparte's Retreat"/"Kissing Tree"
Label: MONUMENT
Catalog: 403
Date: 1959
Single Title: "It Takes You"/"Willy, Quit Your Playing"
Label: MONUMENT
Catalog: 407
Date: 1960
Single Title: "Loveland"/"On The Job Too Long"
Label: MONUMENT
Catalog: 413
Date: 1960
Single Title: "Princess Of Persia"/"Unknown Soldier"
Label: EVEREST
Catalog: 19334
Date: 1960
Single Title: "Big, Big Dream"/"River Of Regret"
Label: EVEREST
Catalog: 19384
Date: 1961
Single Title: "Columbus Stockade Blues"/"There's A Rainbow 'Round My Shoulder"
Label: DECCA
Catalog: 31226
Date: 1961
Single Title: "Finger"/"Have A Drink On Me"
Label: DECCA
Catalog: 31274
Date: 1961
Single Title: "I'd Like To Know Why"/"Save Your Tears"
Label: DECCA
Catalog: 31321
Date: 1962
Single Title: "Bottom Of The Glass"/"I Wanna Go Home"
Label: DECCA
Catalog: 31449
Date: 1963
Single Title: "I'll Leave The Porch Lights A-Burning"/"Old Foolish Me"
Label: DECCA
Catalog: 31562
Date: 1967
Single Title: "Bottles"/"Temporarily"
Label: EPIC
Catalog: 10053
Date: 1967
Single Title: "Mabel (You Have Been A Friend To Me)"/"Papa And Mama"
Label: RICE
Catalog: 5025
Date: 1967
Single Title: "Heaven Help This Heart Of Mine"/"The Real Thing"
Label: EPIC
Catalog: 10103
Date: 1967
Single Title: "I've Seen That Look On Me (A Thousand Times)"/"Written On A Jailhouse"
Label: EPIC
Catalog: 10169
Date: 1968
Single Title: "Last Of My Future"/"Money, Love And War"
Label: MERCURY
Catalog: 72785
Date: 1968
Single Title: "The Ballad Of John Dillinger"/"Do You Still Believe"
Label: MERCURY
Catalog: 72836
Date: 1969
Single Title: "The Changing Scene"/"The Hour Of Separation"
Label: MERCURY
Catalog: 72893
Date: 1969
Single Title: "Jesus Is A Soul Man"/"Peace On Earth Begins Today"
Label: STOP
Catalog: 321
Date: 1975
Single Title: "Family Man"/"What We Have In Common Is Love"
Label: MONUMENT
Catalog: 8653
Date: 1975
Single Title: "Steppin' Out"/"Mom & Dad's Waltz"
Label: MONUMENT
Catalog: 8665
Date: 1976
Single Title: "That's Life"/"Who's Gonna Buy You The Ribbons"
Label: MONUMENT
Catalog: 8685

ALSO APPEARS ON:
Date: 2005
Album Title: Ernest Tubb & Friends [3 Disc set]
Label: Direct Source Label
Date: 2004
Album Title: 20 Country Hits
Label: Music Mill
Date: 2004
Album Title: Forty Great Country Duets
Label: Prism Records
Date: 2004
Album Title: Travelin' Hits
Label: Platinum Disc
Date: 2003
Album Title: The Folk Years [Box Set]
Label: Time-Life
Date: 2002
Album Title: Hard to Find 45's on CD: Pop & Country Classics
Label: Eric Records
Date: 2002
Album Title: The Folk Years: Simple Songs of Freedom
Label: Time-Life
Date: 2000
Album Title: Easy Listening Gold: 1958-1959
Label: Heartland Music/Universal Music
Date: 1999
Album Title: Treasury of Folk, Vol. 3
Label: Time-Life
Date: 1995
Album Title: Treasured Tunes, Vol. 1
Label: Stardust
Date: 1994
Album Title: Monument Story
Label: Sony Music Special Products
Date: 1992
Album Title: Your Hit Parade: The Fabulous '50s
Label: Time-Life
Date: 1989
Album Title: Country U.S.A.: 1959
Label: Decca
Date: 1978
Album Title: Movin' On [ERA]

Travelin' On Album Notes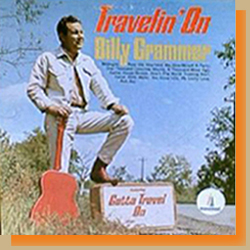 Memo to: Billy Grammer
Location: On tour
Subject: Travelin' On
Date: May 18, 1959
Dear Bill,
As I write this, I am on a train somewhere between Washington, D.C. and New York City. I am going to New York today to put the finishing touch on your first album entitled "Travelin' On." I am to write the notes that will appear on the back cover, and believe me, this is a bigger chore for me than you might think. I have been thinking about the many things I could say, the many ways I could say them and the little space allotted to say them, and so far, I have said nothing. I am writing you this so that if your album comes out with a big blank back, you'll know why.
"Travelin' On" pretty aptly describes both of us since your recording of "Gotta Travel On" journeyed to the top of all the hit lists. Right now I am sure you too are "between" two points on the map. Word has reached me that you are a big hit on your current personal appearance tour, and may I say that I am not at all surprised as I have been watching you "steal the show" for almost ten years now. Maybe I could write about that on your album as I am sure your new fans would like to know something of your past.
I could tell them that you were born in Benton, Illinois, that you're one of 13 children and that you have been playing professionally since 1948, and since 1950 you have worked the night club circuit in and around Washington, D.C.
Most of your "Travel On" fans don't know the tremendous reputation you have acquired as a guitarist in music circles. Maybe they would like to know that most of the big name entertainers, who have played Washington in recent years, have always called on you for guitar accompaniment. Speaking of guitar, I have the master tapes on the album of guitar instrumentals we recorded last week. I think they are just great and will try to get them out as soon as possible. So watch the mail for your copy.
Maybe the record buying public will be interested in knowing that you and I looked for "Gotta Travel On" for three years. We didn't know we were looking for "Gotta Travel On," but we knew it when we heard it, if you'll remember. I remember that while we were looking for what we considered a hit song that you worked the Jimmy Dean network television show out of Washington, D.C. "Gotta Travel On" was released the week the Dean show was disbanded but you were not off television for long because since that time, you have appeared on the Ed Sullivan, Dick Clark and George Hamilton network shows.
Giving credit where credit is due, I think we should thank Buddy Deane, popular Baltimore television (WJZ-TV) disc jockey for being the first to play "Gotta Travel On." His faith in the record and constant spins made it a big hit in Baltimore. From there of course, it took the country by storm.
I am very happy to know that you have just bought a 45-acre farm near Nashville, Tennessee, and I am sure you will enjoy it very much. This should give you a nice home base from which to work your regular appearances on the Grand Ole Opry and, or course, your many personals.
I would like to congratulate you on your new manager, Dee Kilpatrick, and I am sure you will enjoy working with Don Gibson and the other artists managed by Dee.
Something should be said about the songs on the album and how we happened to choose these particular songs to record, so here goes.
A Thousand Miles Ago - This tune is currently very popular by country and western star Webb Pierce. We chose this tune because it tells the story of a boy whose girl friend is a thousand miles in back of him. He also says he has a thousand miles to go. It that isn't traveling on, what is?
Midnight and How's The World Treating You - Both these songs were written by Boudleaux Bryant and Chet Atkins. Boudleaux writes all the Everly Brothers' hits and Chet Atkins is the popular music director of RCA Victor Records plus being one of the world's greatest guitarists, plus director of artists and repertoire at RCA Victor in Nashville, Tennessee. Both these tunes have been favorites of Billy's for a long time.
One Thousand Concrete Blocks - This song was written by John D. Loudermilk, one of the most promising new writers in the country today. A Thousand Concrete Blocks tells the story of a boy who shot his sweetheart's lover and, as a result, is now surrounded by One Thousand Concrete Blocks.
My Lucky Love - It's a happy, almost spiritual sounding song written by another guitarist, Joe Tanner of Chapel Hill, North Carolina. Joe conducted the early George Hamilton sessions that produced "A Rose And A Baby Ruth." The glass bell sound in this song is achieved by playing a Dr. Pepper bottle with a screw driver.
Poor Old Heartsick Me - This is a comparatively new song. It is currently making the rounds via the Margie Bowles recording. This is particularly well suited to Billy's style and that's why we recorded it.
Give Myself A Party - Is a great Don Gibson song, but somehow or another was "lost in the shuffle." A song this good is bound to hit sooner or later and Billy really got a kick out of singing this one.
You Know I Do - Is a very old standard, taught to Billy by his mother. From the way he sings this, you know he is realizing a long time ambition in recording this song.
Barrelhouse Bessie - With Alaska recently achieving statehood, this old song becomes topical once again. It depicts the story of a barrelhouse piano player named Bessie who works the saloon circuit in the Klondike. The story of her meeting the sweetheart who once jilted her, makes this an amusing song.
Kitty Wells - This is one of the first songs I ever remember hearing, and Billy has known it most of his life also. Since the original lyrics have to do with the subject of slavery, we have changed some of the words and brought it up to date without destroying its great, full quality.
Run Boy Run - This is another song we feel never reached its full potential. This tells a great story and gives some mighty good advice.
This album was recorded in the RCA Victor studios in Nashville, Tennessee on March 24, 25 & 26, 1959, on Ampex 351 stereo tape recorders utilizing Telefunken U-47 microphones on voice and RCA 77 DX mics on instruments. The musicians would read like a "Who's Who" in music. Unfortunately, we cannot name them by name as most of them are under contract to other labels and star performers in their own right. A special thanks, however, should be given to Mr. Ed Hines, Head of RCA's Custom Division in Nashville.
That's about it Billy, and I sure hope I think of something to write on the back of your album.
Best wishes and keep traveling on.
Your Buddy,
Fred Foster
President
Monument Record Corporation
Golden Gospel Favorites Album Notes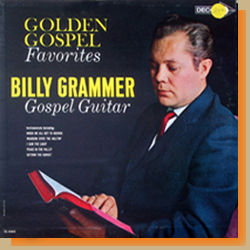 There was a time, back when I was a boy, that good grammar meant not using ain't or cain't. But today, just to show you how things can change, folks say Good Grammer when they mean the most inspiring instrumentalizing that can come out of a guitar amplifier.
When a boss brags about one of the people who works for him, you often suspect that maybe the boss is actually complimenting himself on being so smart as to have hired such a capable person. But I'm not Billy Grammer's boss anymore. The day is long past when I put him to work as one of the original Radio Ranchmen on my station in the Washington, D.C. area, and long gone is the time when I moved him up front as a featured member of the "Jimmy Dean Show" I produced for CBS-TV. So you can take what's said now as being how one man with no axe to grind actually appraises another.
Billy came walking into my office that day we met as a lad raised in Franklin County, Illinois. He told me he was one of thirteen children, and said he thought he'd like picking a guitar better than going down in the coal mines for the rest of his working days like a good many of the boys he had gone through school with. I listened to him play and told myself, "this young sprout just couldn't be any better!" -- but I was proved wrong. Billy has grown into an even finer musician today.
What most of those who make sacred records do with their voices, Billy does with his ten fingers. Some guitarists' fingers, you know, are just "educated"; they only go through memorized motions. But listening to Billy, you experience the sensation that his fingers are at one end of a telegraph line and his heart is at the other. I've been a fellow who signed the paychecks of a lot of different musicians in my time, and I don't know of another instrumentalist who can express any deeper or more sincere convictions.
As I write this, Billy's Golden Gospel Favorites hasn't come on the market yet, of course. But I've already put in my order with Owen Bradley for three copies: all three of them for myself. If that seems a little peculiar, it's because I'm sort of a "migrant worker," with homes and offices here in Nashville, Washington and in the lovely little Virgin Islands community called St. Thomas. And with one album beside the player in each place, I'll be enjoying Billy wherever I am.
Right now, wherever you are, you sit back and enjoy him, too. Peace in the Valley, Beyond the Sunset, Where We'll Never Grow Old, Mansion Over the Hilltop... he plays beautifully, soulfully.
I've appreciated having this brief visit with you. Glad we could get acquainted, and maybe we can visit again sometime. But for now, I'll say many thanks for your attention and sign myself--
Billy's ex-boss and biggest fan,
Connie B. Gay
Billy Grammer Sings Gotta Travel On Album Notes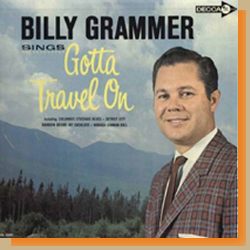 Aim high, they say, if you're really intent on making a place for yourself amid the world of showfolks.
So Billy Grammer took that advice.
But nobody had told Billy he shouldn't do his "aiming" with what amounted to a double-barreled gun.
So Billy aimed for two careers; one as a singer, another as an instrumentalist. And in the crazy, wonderful way things sometimes happen in show business, darned if he didn't score a bull's-eye in both! The combination of becoming a star singer and a star guitarist is about the equivalent of Milwaukee Braves' pitcher Warren Spahn being able to catch behind the plate like New York Yankees' Elston Howard.
Naturally, an album which takes its title from the tune Gotta Travel On, just has to feature the vocal side of Billy's personality. However, that doesn't mean he stood at Decca's recording mic with his hands uselessly hanging at his side; that guitar goes everywhere Grammer goes. It has, in fact, from the day he looked back over his shoulder at the city-limits sign lettered "Benton, Ill.," leaving behind the coal field region where he was raised as one of thirteen children, heading out to try his double-barreled aim.
True to the song title, Billy did "travel on" for a number of youthful years, putting in his apprenticeship with veteran showmen like Grandpa Jones and T. Texas Tyler. But entirely unlike the song, which has the singer saying he "laid around and played around this old town too long," Billy was in no location very long. New opportunities kept opening up. Local radio and TV in the nation's capital. Then the chance to go nationwide on network television. Finally, the big break, the 1959 hit, Gotta Travel On, which made possible his establishing a longed-for "home base" at the Grand Ole Opry. Soon afterward, followed guitar stardom with Decca albums like Gospel Guitar and Golden Gospel Favorites.
It's a full-time job, as you can imagine, keeping up with the work entailed in one successful career - but Billy makes it appear almost effortless to carry the added responsibilities of a twin-talent performer.
About the personal side of Billy, he looks far more like a college student than the father of a pretty co-ed who is such a delight in his family life. He fishes when there's time - and there is time more often than you might think, because even two careers haven't been permitted to make of him a man who only eats, sleeps, and breathes music. Perhaps that is a principal reason why Billy is such a pleasure to visit with in person: his interests are varied and his enthusiasm for getting to know new people always runs high.
Until you have your chance to walk up, introduce yourself and enjoy meeting Billy, this album is the best way to become better acquainted with the singin'est, guitar-pickin'est Mr. Versatility there is in the business. The boy who aimed high, and carried off two prizes for marksmanship.
Country Guitar Album Notes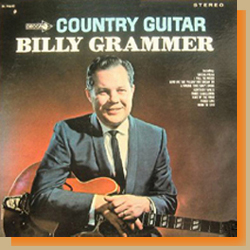 The day is not far off, they tell us, when automation will do all of man's work. But I'll make you a bet that the last man on earth to be replaced by a machine with an electronic brain will be Billy Grammer.
Sure, scientists could cram into a "memory bank" the "how-to" of guitar playing. Then, by throwing a couple of switches, twisting a few knobs and punching a button or two, the machine would come forth with everything from Guitar Polka to Wednesday Night Waltz - in fact, there's not a tune on this great new COUNTRY GUITAR album the machine couldn't play. But, for all its mechanical perfection, there would still be something lacking, and you'd know it. Originality and personality! That's why there will always be a demand for a real, live Billy Grammer, and never a Billy Grammer machine.
Because Billy was mindful of the fact that tastes vary a good deal from one record collector to another, he has given us in these songs, besides that well-known stamp of originality and personality which are now his trade mark, much variety in their choice as well.
He has reached as far back as thirty years for Faded Love, popularized by Bob Wills and his Texas Playboys when they were still a "territory band," playing almost exclusively in the Lone Star State and in Oklahoma - awaiting the "break" which was to sweep them to international fame and immortality in the country music field. And, to bring things right up to the present time, he has included one of this year's biggest sellers, King Of The Road, which has been Roger Miller's rocket to stardom.
Then too, Billy brings you the old-time, all-time country favorite, Born To Lose, and the song by which millions came to know Bill Monroe and his Bluegrass Boys, Kentucky Waltz. From among Patsy Cline's most unforgettable hits, Billy includes I Fall To Pieces. And he didn't miss out on the opportunity to see that you hear an instrumental presentation of the tune that many, many of the vocalists are recording these days, Hank Locklin's Send Me The Pillow You Dream On.
All in all, COUNTRY GUITAR can be predicted as another winner for the boy from the coal mining country of southern Illinois who rose - through apprenticeship as a bandsman, featured appearances on network television, and finally as both a singing and guitar-playing star in his own right - to become a giant in the country music field. He's the fellow for whom automation offers no threat whatsoever, because though a machine might be taught to play with perfection, cold perfection is only a handicap for the truly creative musician . . . the artist who plays what he feels . . . as Billy Grammer does.
Sunday Guitar Album Notes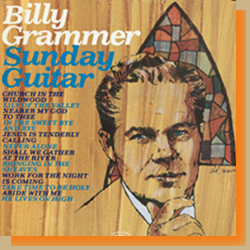 Now you can enjoy Billy Grammer's Sunday Guitar . . . every day.
But please be forewarned that it will be far from an ordinary, "everyday" kind of experience, hearing the inspired musicianship of this exceptional guitar star. Billy doesn't just play with "educated fingers" that are only capable of going through memorized motions. Instead, his hands move as though his heart and all his deepest emotions were guiding every touch upon the strings.
The songs Billy has chosen for Sunday Guitar are almost entirely those you have known and loved from earliest days of childhood. Like the lovely "Church In The Wildwood," "In The Sweet Bye And Bye," and "Jesus Is Tenderly Calling."
These are the songs of faith and devotion to which generation after generation of Americans have turned for strength in times of need. Such as "Nearer My God To Thee," "Take Time To Be Holy" and "Abide With Me." In all, this album contains some of the most moving, meaningful and memorable music ever recorded for you by any artist.
Billy Grammer is an especially outstanding citizen of Nashville's internationally celebrated country music colony, because he is the ideal example of an all-round multi-talented star. He isn't limited to playing and singing; Billy is an arranger of marvelous capability (and each of these Sunday Guitar selections wonderfully illustrates that phase of his talent); what's more, he is the designer of instruments used today by a vast number of other guitarists.
And there is no more perfect example of hard work winning great rewards than Billy Grammer. He came from a family of thirteen children, born in the coal-mining region of southern Illinois, to labor his way through a long series of "sideman" jobs with musical groups all around the countryside. He was always a teamworker, a cooperative fellow and - most important - a musician whose creativeness and originality were a big contribution to any band in which he played. And then one day, as you may recall, his break of a lifetime came as bandleader on the country music show that CBS-TV began beaming from Washington, DC, to the entire nation.
It was only a short time thereafter when Billy's "Gotta Travel On" exploded as an all-American hit, skyrocketing him to his own special (and permanent) place in the history of country-style entertainment.
Sunday Guitar is a remarkable new album which, we confidently predict, will add handsomely to the greatness of a guy named Grammer. It contains a huge measure of the warmth of his personality. These old and familiar and best-loved songs of praise are the ones which have meant so much to his own life, and he delights in sharing them now with you.
Produced by Billy Sherrill
Epic Records, a Division of CBS Inc., New York
LN-24233
Power In The Blood Album Notes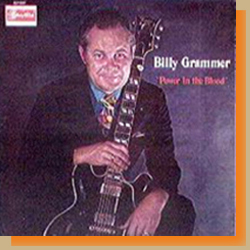 "It's fun being saved." I've been saying this since that Tuesday night, April 15, 1958, when Jesus Christ saved my soul, and I personally found out "There Is Power in The Blood." Since then many outstanding events have thrilled my soul. Like a night in September 1969, while walking into the Municipal Auditorium of Nashville, Tennessee to preach the gospel to a crowd of 10,000 people. Someone said, "Brother Bob, Billy Grammer of the Grand Ole Opry is in the audience tonight." Yes, I knew of Billy Grammer, even though I had not met him personally, I had heard him sing many times, and his million dollar gold record of "Traveling On" was one of my personal favorites (I love country music). I breathed a prayer to Jesus and asked him to do a work of grace in Billy's heart and praise the Lord, He did! That night Billy Grammer let Jesus Christ take over as a Savior and Lord of his life, and since that night, Nashville and America knows better that ever "There Is Power in The Blood." Remember, it's only begun what God is going to do with Billy Grammer.
Gracefully saved,
Bob Harrington
Chaplain of Bourbon Street
Billy Grammer Plays Album Notes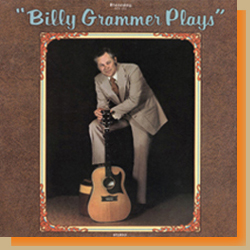 To those of us fortunate enough to have been born and raised in the country, this album will have a special meaning. Because it will walk us back through some of our happiest memories and take us back home. 'Back Home' for me is Rutherford County, North Carolina, and the banks and bottomland of Rocky Broad River. On Sunday afternoons at our house, my dad would read the Bible to those of our community who had never learned to read. (You notice I didn't say illiterate, because some of those old boys were smart in every way except books). Then Dad would get out his harmonica and play some of the old favorites. Some of the boys would bring along their instruments, usually a guitar, mandolin or banjo, and they would each take a turn. I was, without fail, spellbound by their music. Now, these were not professional musicians; they were not overly concerned if they played a wrong note or missed a chord change. They played from the heart. And they laughed, cried or prayed with their music - emotions they would never display in public in the ordinary ways. I shall never forget them.
Now, Billy Grammer is a professional musician, and a great one. I suppose the hardest thing for an accomplished musician to do is play pure and simple, the way you and I like it. But, somehow Billy has, in this set of tunes, managed to reach back beyond all his technical know-how and play like the old boys on our front porch back home. This is music that needs no frills, no embellishments, no big arrangements. It just needs your appreciative ear.
Billy and I go back in our relationship to the inception of Monument Records. Monument's first release was the million-selling "Gotta Travel On" by, yes, Billy Grammer. For that first session, we recorded three sides, and one of them was an instrumental, which shows you what I thought of his pickin' even then.
For those of you unlucky enough never to meet Billy in person, let me tell you, he is a better man than he is a musician, and that's saying something. He is a wonderful warrior for God and Christ, a devoted family man and a friend you never have cause to doubt. Billy made this album shortly before coming to Monument after an absence of several years. I'm grateful to Billy for making this album, for coming home to Monument and for asking me to write these notes. Lay you a couple of copies of this impending collectors' item away in a safe place somewhere. I know I am.
Fred Foster President, Monument Records
Produced by R. M. Stone
Stoneway Records 2817 Laura Koppe, Houston, Texas
77016 STY-152
Christmas Guitars Album Notes
BILLY GRAMMER . . . One of America's Great Guitar Stylists.
YOU MAY CALL IT POPULAR, COUNTRY OR CLASSIC . . . His sound is unique.
His touch, tone and creative fullness have a completeness of sound known as the "GRAMMER SOUND."
You are holding in your hand the only album of its kind . . . a guitar album of songs recorded for Christmas especially featuring the GUITAR CHIMES by an artist who is known for selling several million records as a vocalist in the country field.
He has designed many guitars. Some carried his name. One of his favorites you'll hear on this album is a Gibson. If you like the sound of beautiful guitars, you'll love this album. If you love good arrangements, you'll treasure these works.
Billy Grammer, a quiet gentleman, has been a regular on the internationally known Grand Ole Opry since 1959. You may remember him most for "Gotta Travel On," or "Detroit City." Though a proven country singer, his guitar style supercedes the country boundaries and pushes the limits of several musical categories. As a true professional, he enjoys playing and you can tell this by his easy laid back touch and delicate tone that sets the nostalgic mood of Christmas, for an evening of listening pleasure.
Produced by Cecil Scaife
Classic Christmas - a Division of Music, Inc. - Nashville, TN
CCR-1931